This tutorial is for you who's ABC Analysis only consist of the classic 9 ABC categories.
Learn how to add an extra category containing dead products (no sale for 12 months) 
Your cc products contain a lot of "noise": Dead products, phantom products and products that are supposed to sell badly, as you're not marketing them any more
In order to create streamlined guidelines for your ABC categories, you need to clean up your basic 9 ABC categories. We'll add a extra category for "dead products."
In the right side of the program, find the "edit"-button underneath your current categorization.
Add an "extra category" – you can add as many extra categories as you need.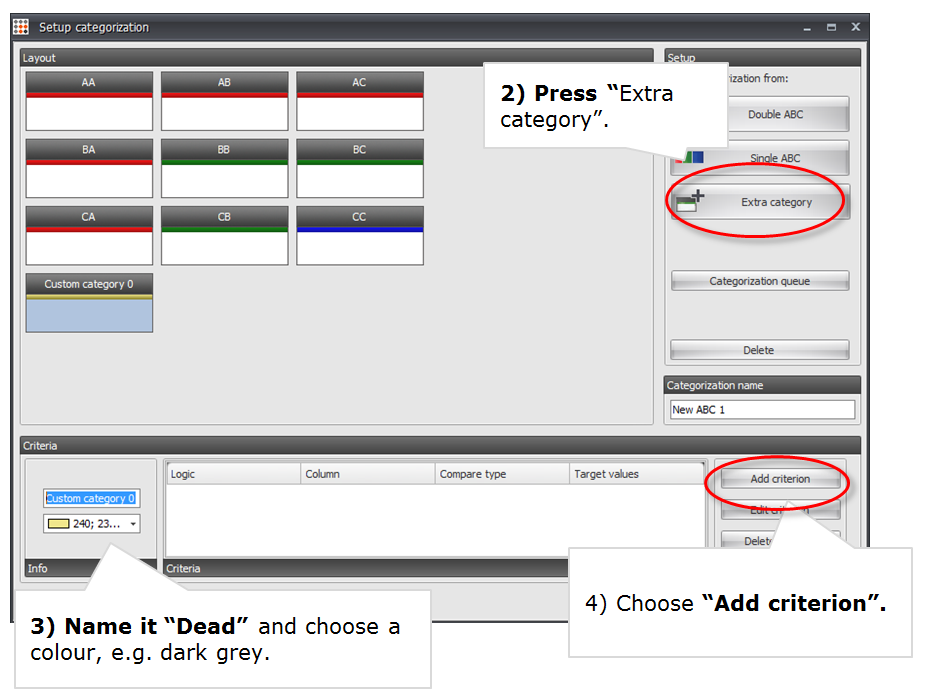 Set up the criterion: Dead products are identified as "Product with no sales for 12 months." Mathematically it looks like this:
Pres Ok.
Now you return to the previous pop-op where you set up the categorization. Press OK to to return to "Overview" and explore your new analysis, or continue adding criteria or build extra categories.
Working with extra categories:
Add as many criteria to a extra category as you want, e.g. Refine "Dead products" so it only contains products with "no sales for 12 months" and "stock value above 0"
Add as many extra categories as you want
Be aware of the "categorization queue." When you set up your categorization, make sure your extra categories are calculated in the right order. (Button is placed underneath the "extra category"-button)
Classic extra categories we recommend you add:
New products
Political Items
Phantom products (products with no sale, and no stock value)