Never run out of your always-selling, cheap products. It's simply not worth it.
Your CA-products are the products in the lower-left corner of the classic ABC matrix.
They are:
Sold frequently and in large amounts (They scored an "A" in order lines)
Your profit is low (They scored a "C" in turnover)
Besides that:
They cost you next to nothing to keep in store
Buy these products "too frequently", and the profit is eaten up by your handling costs
Your customers except them to be available, just like you expect your supermarket to have bought enough milk
Stock-outs on these products are highly annoying for your customers – and impressively cheap for you to avoid
Use the KPI tab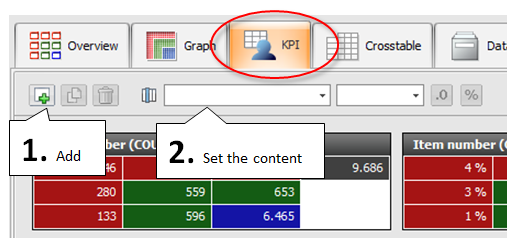 Create KPI boards for:
Item numbers + no. of back orders
Order lines 12 months + %
Stock value 12 months + %
In ABC Analyzer it will look like this:
Your have 344 CA products
143 back orders
They account for 9 % of all order lines, that's almost every 10th order line!
.. and the stock value is less than 2 %
Why annoy customers with stock outs on CA products? You can double their stock value and none of your colleagues will notice it!
Avoid stock out's in the future
Check minimum in your ERP – it might be too low
Buy larger quantities, it should cover at least half a year's consumption
You save the handling costs and your customers are happy!