by Viki Ølgod Frandsen on August 23, 2017 in Danish, Customer cases, Strategy
ABC analyses of products, customers and suppliers support JP Group's strategy execution.
This has resulted in a 30% lower inventory value, 31% higher turnover, 26% fewer dead products and a 3.8 percentage point increase in service level.
From strategy to action
Everyone talks about strategy, but nobody talks about executing strategy.
A lot of resources are spent developing strategies, while generally there is little focus on supporting their execution. JP Group is doing something about that.
"ABC gives us a common language and common goals across the value chain.
…It supports our strategic objectives in a very practical and operational way." So says Kristian Østergaard, executive assistant and member of the management team responsible for strategy and execution.
Three key focus areas 
The international retailer of auto parts uses ABC to support three key focus areas in JP Group's strategy:
Value creation
Lower inventory value
Make more employees decision-makers
ABC is linked directly to strategic goals
"From day one, we emphasised linking ABC closely with quantitative and qualitative strategic goals such as reducing inventory value, having more decision-makers and deploying an 80/20 approach to prioritisation of resources," says Kristian Østergaard, adding:
"This is being done to ensure that everyone has a practical guide to how they can contribute to the strategy and business.
ABC makes it very visible and easy for a lot of employees to see what they need to do and what difference their contribution makes.
We believe this is a strong factor in developing our business."
Customer analysis and supplier analysis
ABC is integrated with JP Group's ERP and BI system. The company is doing something that not many other companies do, namely using ABC on all three dimensions: Products, suppliers and customers.
JP Group analyses the whole chain: Customers, products and suppliers
Customer analysis
JP Group uses double ABC for products and single ABC for suppliers and customers.
Customer analysis
In the customer analysis, JP Group combines mathematics and qualitative input from the sales department.
"We combine mathematical analysis data and market knowledge as well as "the real world", and it gives us a strong and operational basis for differentiating and prioritising daily operations," explains Kristian Østergaard.
The mathematical ABC analysis classifies the top 5% of customers as A customers, the next 15% as B customers etc.
The company then makes a qualitative correction, with many customers "artificially" promoted to A or B code because they are in purchasing groups with some of the big players and therefore entitled to the same prices.
Supplier analysis 
"Purchasers and others use the supplier analysis as an easy guide to choosing the supplier that best meets JP Group's needs. The message is clear: If at all possible, always choose an A supplier," says Morten Mikkelsen Rieck.
Single ABC for suppliers classifies suppliers as A, B and C suppliers, with A suppliers scoring highest on a variety of criteria such as.:
Delivery time
Proper packaging
Turnover
Supply security
Start-up: Broad and strong embedding
In the start-up phase, JP Group opted to establish a very "broad" ABC project. The group consisted of ten people with representatives from management, procurement, sourcing, logistics, sales, IT, quality and finance. In addition, the project group was established with a highly visible mandate from the board. Kristian Østergaard explains:
"When we embarked on the project in the spring of 2015, one of the first actions was to present the ABC project to the entire organisation so that everyone – high and low – was agreed on how ABC interacts with the strategy. We want to involve everyone so they know what their work contributes to."
All departments concerned were consulted and given direct influence over how they would ensure that JP Group achieved its established strategic goals. "This created huge commitment and far better solutions than we could have come up with ourselves in the project group," says Kristian Østergaard.
Everyday life with Pareto
One of the main features of everyday life with ABC is Pareto's 80-20 rule.
"We want ABC to create a keen awareness among everyone in the company that 20% of the products contribute to 80% of the value creation, and that the same rule applies to suppliers and customers"
So says Morten Mikkelsen Rieck, logistics manager and member of the management team.
All employees in the company are routinely presented with the following figure: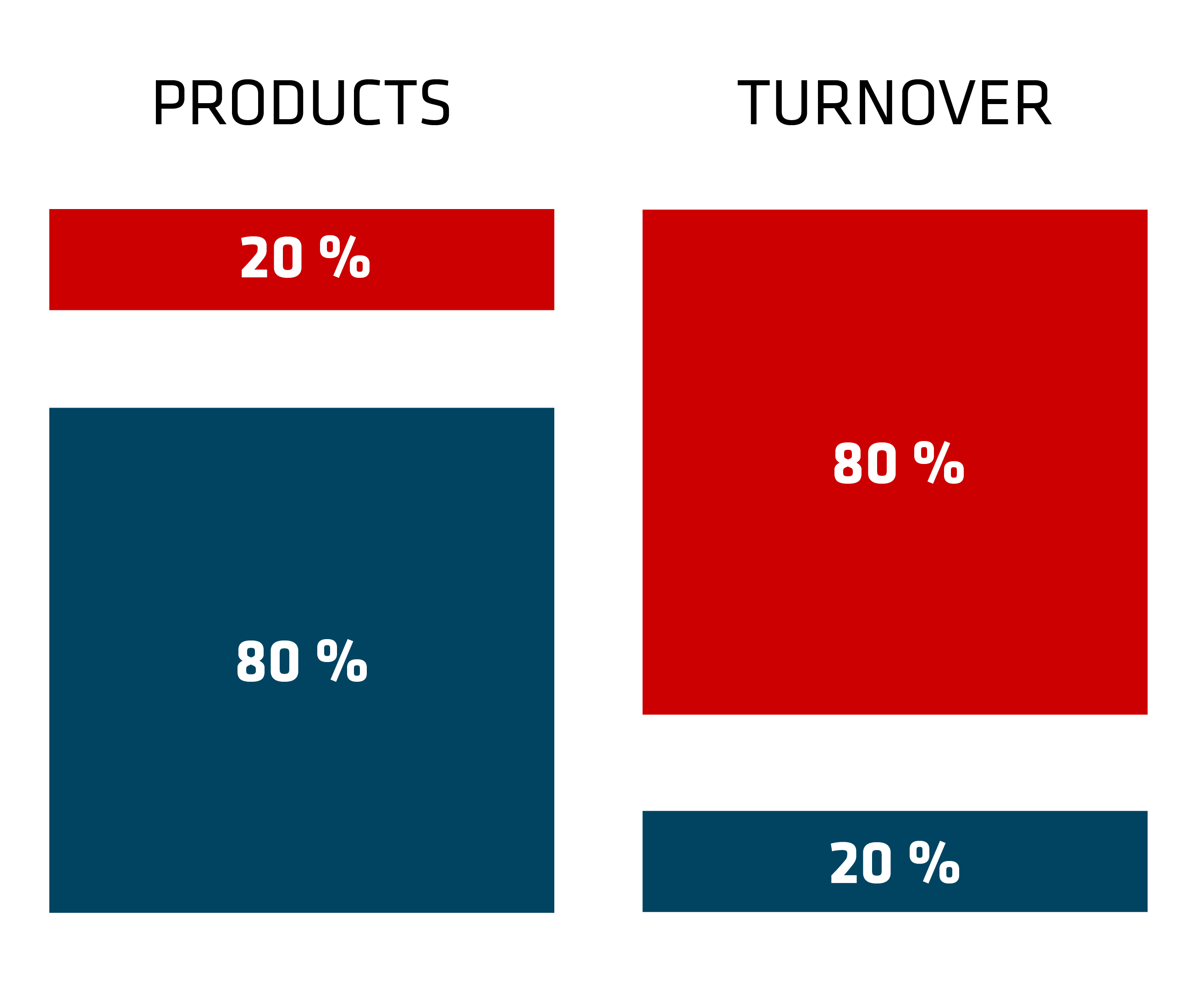 The model is used to create dialogue:
What products are contributing most to the business?
Is our capital being invested in the right places?
Are we always optimising the most important products?
Are we negotiating the framework for crucial products?
Is it necessary to keep all the products in stock?
Results with ABC
JP Group has generated a wealth of results since they started using ABC.
Inventory value has been reduced by 30%
Turnover has increased by 31.4%
Value of dead items has been reduced by 26%
Service level has increased by 3.8 percentage points
Far more decision-makers and more decentralised, flexible management
Employees are operating based on facts and not feelings
Better communication across departments
About JP Group
JP Group is one of the ​world's leading companies in the aftermarket. They produce and sell quality parts and accessories for European and Asian cars to approx. 1,800 B2B customers in more than 90 countries. They are 100% family owned and were founded in 1975. Their product range includes approx. 29,000 items from 450 suppliers, while JP Group also supplies exclusive parts and accessories for classic cars from VAG, Porsche and Mercedes-Benz.
JP Group is one of four "Best Practice customers 2017"
Every year, ABC Softwork selects 4 strong Danish companies to share their experiences and best practices at a closed event for ABC customers: ABC Breakfast Club. Read the articles about this year's three other best practice customers:
This article was first published in May 2017. See the original version in Danish here. The article has been reissued as the latest results underline JP Group's expertise and SCM maturity.