1. Recipes: It is not longer necessary to be an expert in Excel to make calculations in ABC Analyzer. Choose the wanted recipe, for example "Stock surplus 12 months" and the columns needed for the calculation and ABC Analyzer will do the rest. We are continuously expanding the number of recipes. Read more about recipes at recipes.abcsoftwork.com/en
2. New types of reports: It is now possible to make reports by comparing the contents of two different columns. So, compare easily "New ABC code" and "Old ABC code" and much more. Read more about movement- and delta reports here.
3. New top menu: The top menu has changed layout. Read more about it here.
4.Targets: KPI allows you to set up a board with the desired targets for e.g. the turnover rate or the stock value for each ABC category. Enter targets for each ABC category and for the total. If you don't enter a value you'll see "0,00" in the cell. Read more about targets here.
5. A new button in Report and Data: A huge window to see/hide columns. Due to the increasing number of calculated columns, the right-side menu in both Report and Data will become enormous. In the top of both tabs we have introduced a button that gives you a new window with all columns. So, use the button to show/hide columns.
Important features if you are building analyses for ABC Viewer:
1. Your intermediate results are invisible: If you hide a column at the Data tab, it will not longer be visible in the dropdown menu in Overview in ABC Viewer. Use this function to hide your many intermediate results and other columns that can disturb the ABC Viewer users' overview.
2. The order of reports can be changed: The report slicer shows the reports in the order they are built. By adding a number from 1-9 in front of the report name you can control the order. You add a number by right-clicking a reports in the bottom of the Report tab.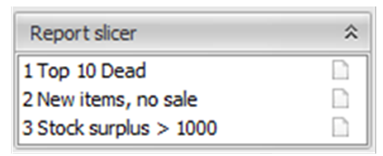 3. Delete quickly unwanted reports: The new top menu gives you a list containing all elements of your project. Find it below the menu option "Edit" and use it when you are building templates to the ABC Viewer users: Build a Master Template with all the reports, columns etc. that your different ABC Viewer users have to use. After you have built the complete Master Template, you can easily save a reduced version to purchaser A and another to purchaser B. Every time you remove elements from your project, you have to save it with a new name, so you wont destroy the Master Template.